The city of Lights is a life-long love for many people who have visited it and the ultimate dream for those who still have not.  Is it the streets, or the art or the people that make it so, I can't tell, but there are some people who have found just the right words to describe why they fell in love with Paris. Here are their quotes  about Paris:
"If you are lucky enough to have lived in Paris as a young man, then wherever you go for the rest of your life it stays with you, for Paris is a moveable feast." – Ernest Hemingway
"Whoever does not visit Paris regularly will never really be elegant." – Honoré de Balzac
"There is but one Paris and however hard living may be here, and if it became worse and harder even – the French air clears up the brain and does good – a world of good." ― Vincent van Gogh
"Paris is the city in which one loves to live. Sometimes I think this is because it is the only city in the world where you can step out of a railway station – the Gare D'Orsay – and see, simultaneously, the chief enchantments: the Seine with its bridges and bookstalls, the Louvre, Notre Dame, the Tuileries Gardens, the Place de la Concorde, the beginning of the Champs Elysees – nearly everything except the Luxembourg Gardens and the Palais Royal. But what other city offers as much as you leave a train?" ― Margaret Anderson
"An artist has no home in Europe except in Paris." – Friedrich Nietzsce
"People wonder why so many writers come to live in Paris. I've been living ten years in Paris and the answer seems simple to me: because it's the best place to pick ideas. Just like Italy, Spain… or Iran are the best places to pick saffron. If you want to pick opium poppies you go to Burma or South-East Asia. And if you want to pick novel ideas, you go to Paris." – Roman Payne
"Paris… is a world meant for the walker alone, for only the pace of strolling can take in all the rich (if muted) detail." – Edmund White
"Paris is a place in which we can forget ourselves, reinvent, expunge the dead weight of our past." – Michael Simkins
"The whole of Paris is a vast university of Art, Literature and Music… it is worth anyone's while to dally here for years. Paris is a seminar, a post-graduate course in everything." – James Thurber
"That Paris exists and anyone could choose to live anywhere else in the world will always be a mystery to me." – quote from the movie "Midnight in Paris"
Pin it for later: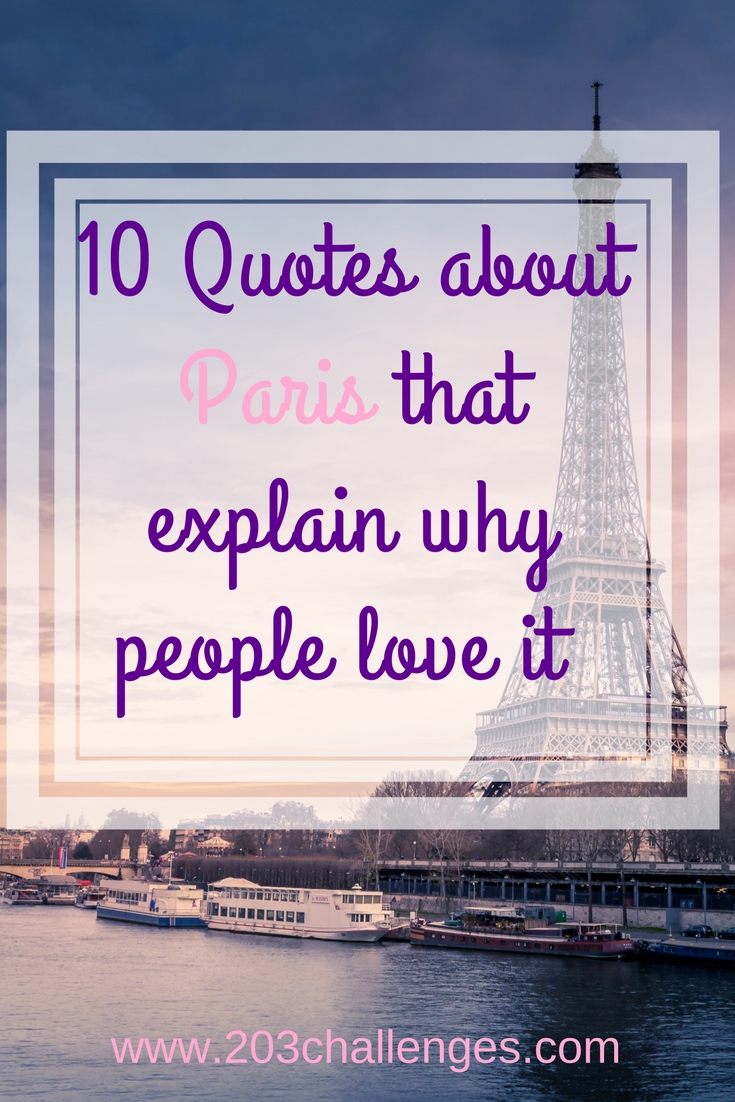 >>> Discover more thematic collections of travel quotes.