The challenge: start the day early and greet the sunrise in one of these amazing ways!
If you're fed up with boring mornings, here are 10 ways to make the start of the day a small celebration (I've tried most of them many times, while some are still on my list):
Sunrise date
Wake up at 4 am and drive to a beautiful sunrise spot – it could be a seashore, a cityscape or any kind of scenic spot you and your soulmate enjoy. Watch the new day dawning on a blanket and then take a nap. Of course, you can do the same with your best friend.
Sunrise in a balloon
It's not something you can do every day, but for an extra special morning you can't go past a sunrise flight in a hot air balloon.
Sunrise surfing
Grabbing your board and plunging into the deep blue is a surefire way to make your morning more exciting. If you haven't tried surfing yet, photos like the one below should give you some inspiration.
Sunrise picnic
Pour some steaming coffee in a thermos, grab a few sandwiches for breakfast and head for your favorite picnic spot. Sometimes I drive for an hour to reach a remote mountain meadow just to hear the morning birdsong and enjoy the breaking dawn.
Rooftop sunrise
Do you have a friend with a magnificent rooftop terrace, or do you know a rooftop bar that organizes early morning events? Find the best view in the city and bring your coffee with you.
No-sleep sunrise
For those who cannot wake up early, we suggest a gentler option: if you don't go to bed all night, you won't need to hammer the alarm clock!
Kayaking at sunrise
Sneak out of your tent/bungalow and grab a kayak at dawn to catch the magical moment when the first rays of sunlight kiss the water's surface. What I love most about these moments is the perfect serenity that surrounds you.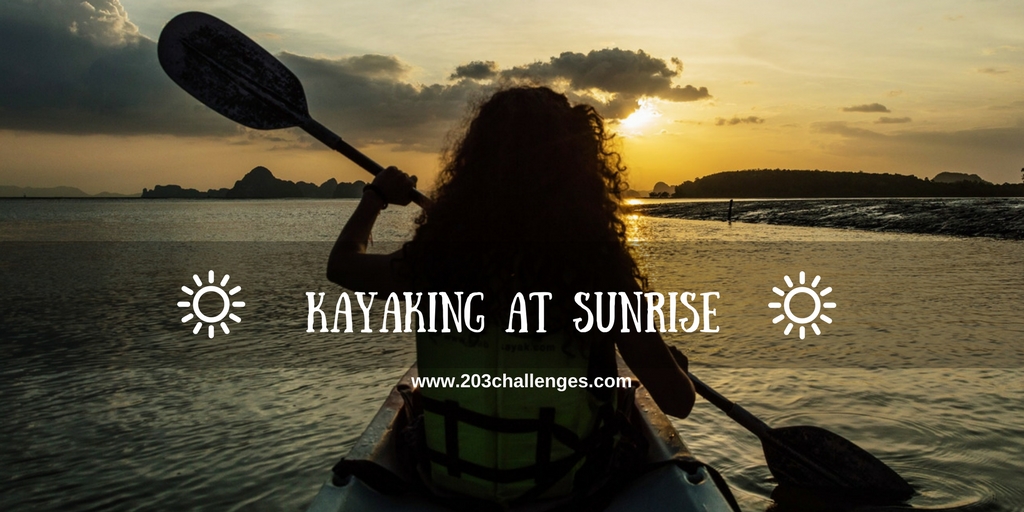 Sunrise from your tent
The best thing about camping is that you can wake up, peek through your unzipped tent to marvel at the sunrise, then immediately go back to sleep. Two of the year's most special sunrises are the summer and winter solstice, when you can add a ritual from your country to add to the experience.
Sunrise swimming
It's worth waking up early to start the day with a refreshing dip in the water (a sea, a river, an ocean or a pool – whatever you have close by).
Play a sunrise song
We all hear different melodies in our heads when dawn breaks, but here are a few of my suggestions for a special song to play as you watch the sunrise. If you can play a musical instrument, you can perform the melody yourself, or you can play it on your speakers to enjoy a special sunrise soundtrack:
Shine by Benjamin Francis Leftwich      Sunrise by Simply Red      Sunrise by Norah Jones     Sunrise by One Last Night      Bloom by The Paper Kites
Pin these ideas for later: